New Local Plan: Spatial Options Document 2021
Ended on the 22nd September 2021
Transport and Connectivity
Relevant Plan Objectives: 9, 10, 11
Due to its peninsula location, Rochford is an area that has a relatively constrained and varied transport network for walking, cycling, public transport and private vehicles.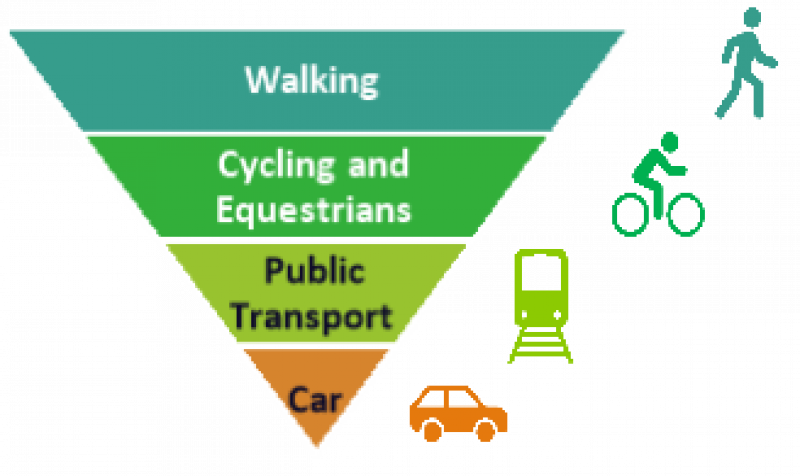 Whilst many residents are dependent on use of private cars, it is important that we plan for a District that makes best use of more sustainable and active forms of movement. This is important for a number of reasons, including:
To promote active and healthy lifestyles where private vehicles are not the favoured mode of travel for short trips
To reduce congestion on roads and the emergence of consequential issues such as poor air quality and climate change
To encourage a more positive relationship between public transport patronage, investment and reliability
National planning policy states that transport issues should be considered from the earliest stages of plan-making, so that:
the potential impacts of development on transport networks can be addressed
opportunities from existing or proposed transport infrastructure, and changing transport technology and usage, are realised
opportunities to promote walking, cycling and public transport use are identified and pursued;
the environmental impacts of traffic and transport infrastructure can be identified, assessed and taken into account – including appropriate opportunities for avoiding and mitigating any adverse effects; and
patterns of movement, streets, parking and other transport considerations are integral to the design of schemes, and contribute to making high quality places.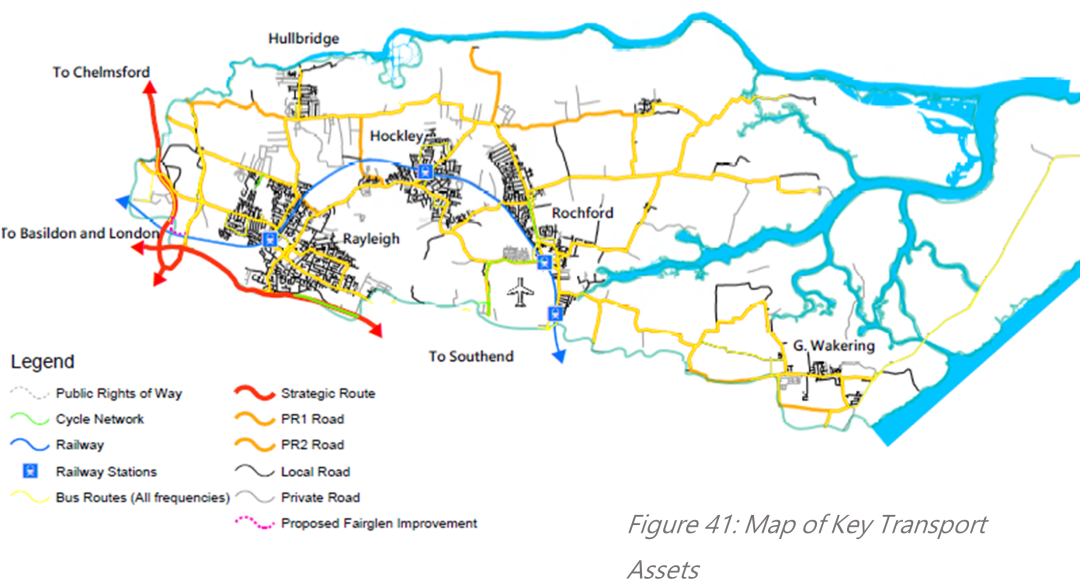 Sustainable Travel
The District has a relatively expansive public rights of way network both within settlements and in the open countryside. However our footpaths and bridleways are of varying quality and often do not reach the places walkers, cyclist and equestrian users want to go. We also recognise that our cycling network is particularly limited and requires expansion to better reflect the 'desire lines' of our residents and to become a realistic alternative to the private car for more people. The Rochford Cycling Action Plan identifies a number of potential costed routes, primarily to link Rochford, Rayleigh and Hockley. One way we help to deliver these, and other, routes is by preparing a Local Walking and Cycling Infrastructure Plan (LCWIP) alongside the plan to identify and deliver specific improvements to these networks.
The District is connected to London and Southend by the Southend Victoria branch of the Great Eastern Mainline, with stations in Rayleigh, Hockley, Rochford and at Southend Airport. This rail connection forms an important commuting route for local residents and key asset for the local economy, however it struggles with capacity at key times. It is important through the plan that we consider ways of improving capacity both on trains and at stations, taking on board the findings of the Great Eastern Mainline Study. However we recognise it is also important that this is considered against any longer-term economic trend towards home working, which may have been accelerated as a result of the COVID-19 pandemic.
Bus connectivity is relatively more varied with a number of routes serving the main towns of Rochford, Rayleigh and Hockley, with relatively more infrequent services in Hullbridge and Great Wakering. These bus services primarily provide inter-urban services to other towns and villages in the District, as well as to towns in neighbouring areas such as Basildon, Chelmsford, Castle Point, Wickford and Southend-on-Sea. There is a role for the plan in improving the frequency and reliability of existing bus routes, by locating development in areas which could benefit from these improvements, as well as ensuring developments have good access to viable existing and proposed routes to make sure these are a realistic choice for residents.
 
Road Connectivity
The District benefits from two main strategic routes, the A127 and the A130, which both act as economic corridors and provide connectivity beyond our borders to Southend, Basildon, London and Chelmsford via the A12, A13 and M25. These are supported by a network of important inter-urban routes, including the A129, A1015, A1245, B1013, Rawreth Lane, Ashingdon Road and Lower Road, which together connect our towns and villages to one another. Rochford's road network is known to have congestion issues primarily focussed along the main routes detailed above and at key junctions along those routes. Many of the District's congestion issues arise from the relatively few alternatives that residents have, particularly to make north-south journeys. In some cases, towns and villages are only connected by one viable route which often becomes congested at key times.
It is recognised from feedback from the Issues and Options consultation that many residents experience major congestion on our road network and feel that the road network has not kept up with increased demand in recent years. Whilst new developments can only mitigate their own impact, and not existing congestion, it is clear that a more ambitious approach is required to connectivity if we are to keep growing. We must work with Government, Highways England, Essex County Council and neighbouring local authorities to make sure we can attract investment to deliver real change, including a potential South Essex Rapid Transit system, new link roads and junction improvements. Plans already exist for improvements to the Fairglen interchange to improve journey time reliability when interchanging between the A127, A1245 and A130, whilst an A127 taskforce has been established to explore long-term options for improving journey time reliability on this key corridor. Whilst road and junction improvements will be an important part of the plan, a strategy based solely around the private car is likely to simply reinforce current trends, and we must put in place complementary measures that deliver a modal shift in both existing and new communities towards more sustainable options wherever possible.
 
OPTIONS - Non-exclusive options for addressing transport and connectivity through the plan are to:
Embed a sustainable movement hierarchy into the plan to ensure sustainable modes of transport are prioritised in favour of private vehicles
Prepare an Infrastructure Delivery Plan alongside the plan to ensure new development delivers meaningful improvements to transport networks, including to cycling, walking, public transport and road
Prepare a Local Walking and Cycling Infrastructure Plan or Cycling Delivery Plan alongside the plan to identify and deliver specific improvements to our walking and cycling networks, including costed schemes highlighted in the Rochford Cycling Action Plan
Work with Government, Highways England, Essex County Council and neighbouring local authorities to deliver meaningful new transport options, such as rapid transit
(57)
Q51. With reference to the options above, or your own options, how do you feel we can best address our transport and connectivity needs through the plan? [Please state reasoning]
(85)
Q52. Are there areas where improvements to transport connections are needed? What could be done to help improve connectivity in these areas?
(31)
Q53. With reference to your preferred Strategy Option, are there opportunities for growth to deliver new transport connections, such as link roads or rapid transit? What routes and modes should these take? [walking, cycling, rail, bus, road etc.]
back to top
back to top