New Local Plan: Spatial Options Document 2021
Ended on the 22nd September 2021
Heritage
Relevant Plan Objectives: 21
Rochford is an area with a rich and diverse history that is reflected in the large number of historic buildings and public spaces scattered throughout it. A settlement was recorded at Rayleigh as far back as the Domesday book whilst the Old House in Rochford can be dated back to 1270.
National policy sets a clear requirement for plans to set a positive strategy for the conservation and enjoyment of the historic environment. It also makes it clear how historic assets should be conserved and enhanced through the planning process.
Local authorities are able to designate certain areas to protect their historic character. This includes designating formal conservation areas where stricter rules on development will typically apply. The District currently contains 10 conservation areas at:
Battlesbridge
Canewdon (church)
Canewdon (high street)
Foulness Churchend
Great Wakering (high street)
Paglesham Churchend
Paglesham Eastend
Rayleigh (centre)
Rochford (centre)
Shopland Churchyard
Local authorities are able to designate new conservation areas where an area clearly holds special architectural or historic character.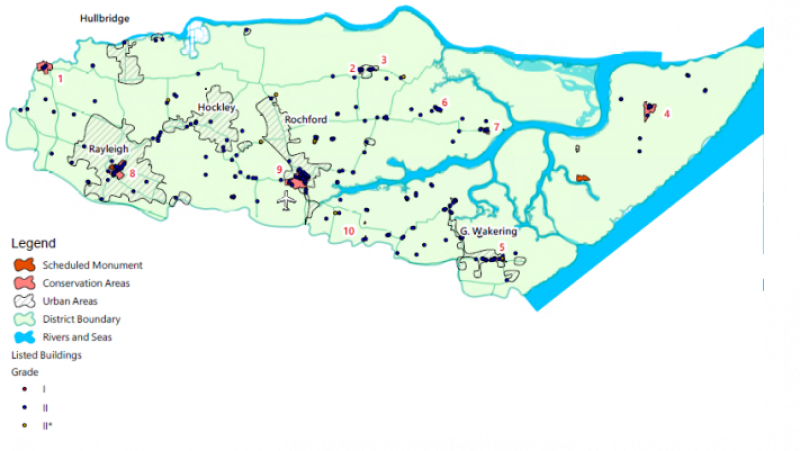 Figure 35: Map of Key Heritage Assets

Each of the District's conservation areas is covered by its own appraisal and management plan produced in 2007. These documents should be regularly reviewed and it is likely that a review will be required as part of the process for informing the new Local Plan. This review can help to inform the specific content of policies within the new Local Plan. The Council is not currently proposing to designate any new conservation areas, however if potential areas are suggested through this consultation, the merits of designating new areas can be considered.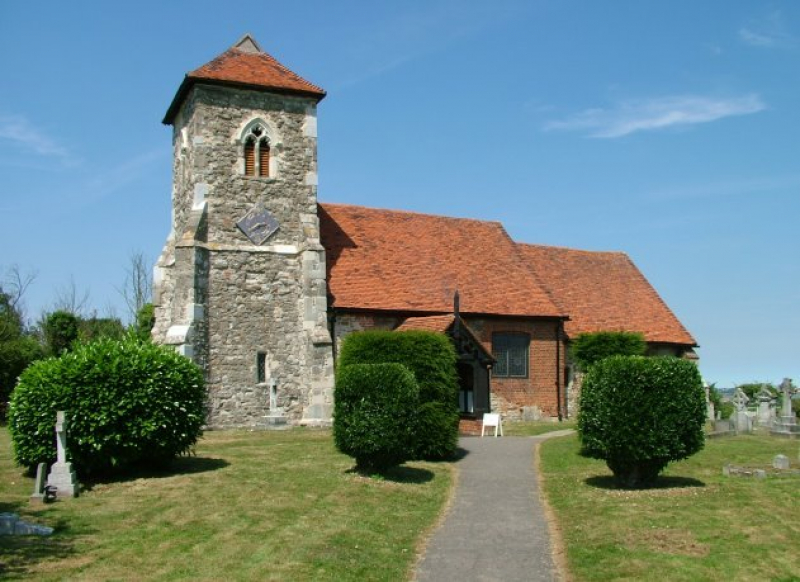 In addition to conservation areas, there are a number of other designated and non-designated heritage assets that must be protected and enhanced through the planning system. This includes scheduled monuments, nationally important archaeological sites, and listed buildings, buildings designated by the Government for their special architectural or historic value.
Assets that are of important architectural or historic value, but that are not of significant enough value to be listed, can also be considered a non-designated heritage asset. Non-designated heritage assets are buildings, monuments, sites, places, areas or landscapes identified as having a degree of heritage significance meriting consideration in planning decisions but which do not meet the criteria for designated heritage assets. The Council currently has a Local List SPD that identifies a number of non-designated heritage assets throughout the District. Through the plan-making process, the Council could update this Local List to review the case for including existing non-designated heritage assets and considering the case for including new assets.
Feedback from the Council's Issues and Options consultation, including from Historic England, made clear that existing policies on heritage assets and the historic environment require updating to reflect changes to national policy. Furthermore, reflecting feedback, the Council is committed to preparing a Historic Impact Assessment (HIA) of the new Local Plan as it develops to ensure the impacts of strategy and policy decisions on designated and non-designated heritage assets are given appropriate weight. To support this, the Council has commissioned an initial site assessment of potential development sites, considering their impacts on built assets and archaeology, having regard to the Essex Historic Environment Record.
 
OPTIONS - Non-exclusive options for addressing heritage through the plan, include:
Reviewing the list of existing designated heritage assets, including updating conservation area appraisals and management plans and considering the case for new conservation areas, providing for the protection and enhancement of these assets through one or more policies
Reviewing the list of existing non-designated heritage assets, including updating the local list, and providing for the protection and enhancement of these assets through policies
(23)
Q43. With reference to the options listed in this section, or your own options, how do you feel we can best address heritage issues through the plan? [Please state reasoning]
(15)
Q44. Are there areas of the District we should be considering for conservation area status beyond those listed in this section? [Please state reasoning]
(18)
Q45. Are there any buildings, spaces or structures that should be protected for their historic, cultural or architectural significance? Should these be considered for inclusion on the Local List of non-designated assets? [Please state reasoning]
back to top
back to top