Paglesham East End Conservation Area Appraisal and Management Plan
Ended on the 30th August 2007
6. Origins and Development1
6.1 In the Neolithic period Paglesham was situated on the eastern edge of a peninsular of gravel which protruded into coastal marsh, just above the high-tide mark. The marsh would have been bisected by numerous small creeks and tidal channels and much of it may have been submerged with each high tide. This attracted prehistoric settlers, providing them with easily tilled soils and access to wetland resources and rich grazing on the marshes. There is evidence for occupation of the area in this period in the form of a jadeite axe found to the south-west of South Hall in 1964. Evidence of Roman settlement is provided by Red Hills, salt production sites located to the north-east of the present settlement at Paglesham.
6.2 The earliest evidence for Saxon occupation in the area is a 6th century brooch. The Domesday book records Paglesham at the end of the Saxon period when there were a total of 20 households and six landowners. The principal land-holding was Paklesham2 or Church Hall manor, which belonged to Ingulf, who granted the manor to Westminster Abbey in 1066. Writing in 1768, Philip Morant records that there were formerly also manors at East Hall, South Hall and West Hall3.
6.3 The medieval settlement of Paglesham consisted of the two hamlets at East End and Church End, with other scattered farmhouses and cottages. The settlement at Church End was a classic church/hall complex, with the hall located to the east of the church. The Chapman and André map of Essex of 1777 is a good indicator of the distribution of settlement at Paglesham by the end of the medieval period (Fig. 4). It shows the principal hall at Church End, as well as East Hall which was set in a moated enclosure, and South Hall where traces of what is probably a moated enclosure can still be seen. West Hall, although mentioned in 1475, does not appear on the Chapman and André map, but today there are three attached dwellings on the site with 17th century origins. The settlement at East End is shown on the marshland edge with properties on the north and south sides of the creek road. Paglesham's medieval economy was based on agriculture, exploiting the estuarine location particularly with sheep-rearing for cheese-making on the marshes as well as fishing.
Fig. 4 Detail of Chapman and André map, East End, 1777.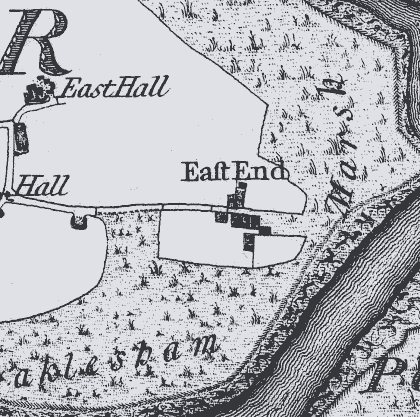 Fig. 5 Chapman and André map, Paglesham, 1777.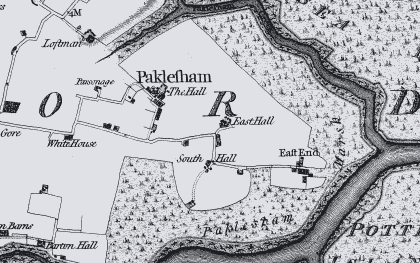 6.4 Paglesham grew slowly in the post-medieval period, and remained a remote and self-contained community. By the close of the 18th century the village had earned a reputation as a centre for smuggling. A flourishing oyster industry in the 19th century precipitated significant development at East End. Older properties were upgraded and new rows of cottages for oyster dredgers and labourers were constructed. Up until the end of the 19th century much of the River Roach was common ground for oyster fishing, with the remainder divided into private layings. The oyster grounds were principally owned by the Wiseman and Browning families who lived at East End. James Wiseman inherited The Chase in 1851, then called Maritime Cottage, and enlarged it to the grand property seen today with extensive gardens, pleasure grounds, orchards and farm (Fig. 6). The present appearance of East End owes much to James Wiseman, who came up with a grand scheme for the construction of new roads, drains and three new rows of cottages to provide housing for 20 families (now known as Shop Row, New Row and Boarded Row) with wash houses and toilets. His proposals can be seen in his sketch map of 1873 (Fig. 7). By 1903 when his estate was sold James owned much of East End village. James's cousin Frederick Wiseman lived at Buckland House, and another oyster merchant, Zachary Pettitt, who married into the Browning family, resided at Cupola House, formerly known as Lunts. It was Zachary who provided the Mission Room at East End in 1893 to be used for church services and as a Reading Room, and this remains a valuable community building for the village today. At the end of the century two or more oyster fishing companies were established, including The Roach River Oyster Fishery Company established in 1866. Associated with the oyster industry, boat-building was carried out at the East End boatyard from at least 1848, and timber barges and oyster smacks were built there including the 48 ton barge the Ethel Ada.
Fig. 6 The Chase from the 1903 sale catalogue.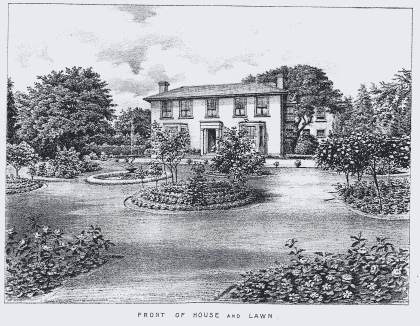 Fig. 7 James Wiseman sketch map, 1873 (ERO T/B 269/8).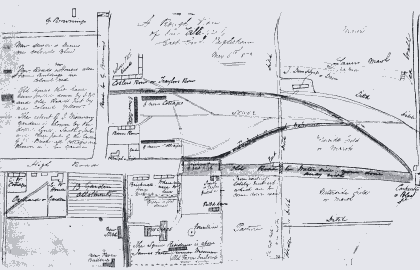 6.5 The population of the parish increased in the 19th century from 433 in 1841 peaking at 518 in 1881, after which it gradually declined. In 1891 there were 207 people living in East End. Many were employed as oyster dredgers and fishermen, as well as in domestic service, in contrast to Church End where agricultural labouring was the main form of employment. However a wide range of trades were represented in the parish as a whole, including cobblers, blacksmiths, bakers, thatchers, carpenters and a range of professions associated with the coastal location such as boat builders and ships carpenters.
6.6 By the 1920s the oyster industry was in decline, and disease, harsh winters and floods depleted stocks. Whilst farming continues to be an important element in the local economy, the oyster industry has disappeared and boat building is limited to pleasure craft. Today the population of Paglesham parish is a little over half what it was a century ago at around 250, living in 100 households. Paglesham was once a self-contained village, and at one time had ten shops, but the last of these,the Trading Post at East End, closed in 1985. Despite its isolated location and poor local facilities, Paglesham is a well-established, friendly community, with active local organisations including the Village Produce Association and Women's Institute. The Plough and Sail continues to be a popular draw to East End.
1 See M. Medlyott 2003 Paglesham Historic Settlement Assessment, Chelmsford: Essex County Council/Rochford District Council. Also Rochford District Council/Essex County Council Rochford District Historic Environment Characterisation Project, 2005. Local historian Rosemary Roberts has written a number of publications on different aspects of the history of Paglesham.
2 The name has Saxon origins meaning the ham (homestead) or hamm (enclosure) of Pæccel See P.H. Reaney 1935 The Place-names of Essex, Cambridge: Cambridge University Press.
3Morant 1768 The History and Antiquities of the County of Essex, London
back to top
back to top