Shopland Churchyard Conservation Area Appraisal and Management Plan
Ended on the 30th August 2007
1.0 Introduction
1.1 Conservation Areas are areas of 'special architectural or historic interest, the character or appearance of which it is desirable to preserve or enhance' (Planning (Listed Buildings and Conservation Areas) Act 1990), and were introduced by the Civic Amenities Act 1967. Designation imposes a duty on the Council to pay special attention to the desirability of preserving or enhancing the character or appearance of the area in exercising its planning functions. It places firmer planning controls over certain types of development that might otherwise erode the special character of the Conservation Area, including boundary treatments, demolition of unlisted structures and works to trees. However it does not prevent any change to the Conservation Area, and this may be subject to a variety of pressures that could affect its character and appearance.
1.2 Conservation Area Appraisals aim to evaluate the designated area in order to identify and record its special character and describe its current appearance. Some aspects of the Conservation Area will contribute to the 'special character' for which it was designated, some will have a neutral effect and some even detract from it. These aspects will be identified to help further the planning aim to 'preserve or enhance the character and appearance' of the Conservation Area, including the open spaces, trees and other elements of the environment that contribute to its character.
1.3 The Shopland Churchyard Conservation Area was designated in March 1992. The Conservation Area lies in Green Belt land about three miles north-east of the conurbation of Southend-on-Sea, in the parish of Sutton. The Conservation Area is formed by the boundary of the churchyard of the former parish church of Shopland. The church was demolished in 1957.
1.4 This appraisal was commissioned by Rochford District Council and the research and fieldwork was carried out in July 2006. It will be used to guide the Council in exercising its planning functions in relation to the Conservation Area and to support the conservation policies that form part of the new Rochford District Council Local Plan.
1.5 The appraisal provides a brief development history of Shopland Churchyard, followed by a general description of the Conservation Area and assessment of character. Any issues which may affect the protection of character are highlighted and opportunities for enhancement identified.
Figure 1. The location of the Conservation Area (shown blocked out)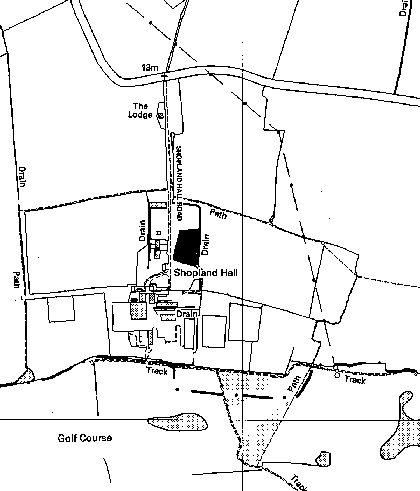 Shopland Churchyard is a peaceful, isolated rural churchyard, fully enclosed by a thick boundary of mature trees and scrub, with an informal and generally dispersed arrangement of gravestones set in greensward. Shallow earthworks marking the original position of the church add interest to the landscape, and the graves of notable local residents add special significance to the site. The tree cover in the area of the churchyard is in marked contrast to the surrounding open landscape of arable fields and paddocks.
back to top
back to top